Fermented Flower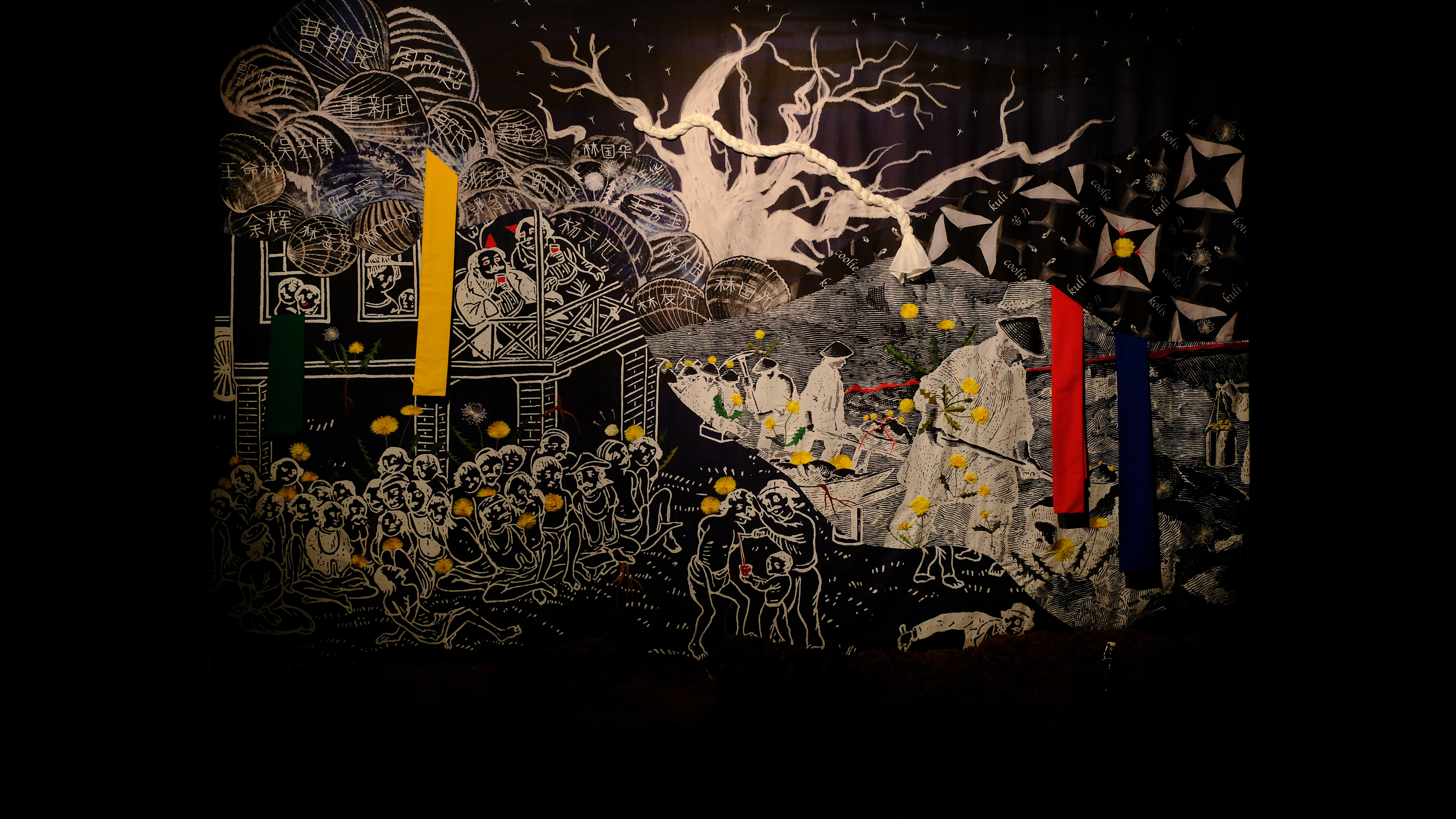 Images from
Fermented Flower
, installation with embroidered textile, soil and fermented dandelion liquor and sound, 2021
UK-based South Korean artists, Breakwater, confront the racist roots deeply embedded in the field of botany, which stem back to the Victorian era when trading companies would commission expeditions to seek out and label new botanical discoveries. In this work, Breakwater explore this practice of plant classification as a source of wealth within trading and capitalism, while examining contemporary systems of racism relating to land and labour.
Fermented Flower
presents a newly commissioned textile and audio installation. The woven screen composites images drawn from archival research, with reference to the painful history of Chinese indentured labour, as part of a longer perspective on black slavery systems and the ongoing exploitation of migrant workers. The artists weave in a Korean shamanistic tradition that utilises flora to draw in, and then expel, the spirit of madness and resentment which arises from suffering. This is detailed in the appliqué of cockles in reference to the Morecambe Bay cockling disaster of 2004, alongside the names of the Chinese victims, and the hand-embroidered healing motifs of dandelion and the holmskioldia plant, reclaimed from its colloquial racist name - the coolie's cap.
The detailed tapestry and accompanying audio of symbolic bell chimes evoke references of traditional Asian religious murals, which situate scenarios and storylines to form a spiritual and earthly cosmology. Through
Fermented Flower
, Breakwater presents an alternative planetary ancestry that dissolves prejudicial categories and hierarchies, allowing interspecies care.
A Taey Iohe & Youngsook Choi collaboration (Breakwater), 2021
Fermented Flower was exhibited as part of
Future Ages Will Wonder,
curated by Annie Jael Kwan at Fact, Liverpool.
Tapestry
Commissioned and produced by
FACT
, Liverpool with the support of public funds from Arts Council England, Liverpool City Council, and the European Union's Horizon 2020 research and innovation programme project Artsformation.
---